Tradições de Portalegre
Projeto de Design de Ambientes Gráficos para a nova Estação Central de Camionagem de Portalegre. //Graphic Environments project for the new Bus Central Station of Portalegre, in Portugal.
Realizado como proposta para a unidade curricular de Design de Ambientes Gráficos, e

scolhemos como base para o projeto a nova Estação Central de Camionagem de Portalegre, a juntar-se ao tema das Tradições de Portalegre. O nosso principal objectivo é, sem um grande orçamento, criar um espaço caloroso onde esperar pelo autocarro, além de confortável. Outro dos nossos principais objetivos com este projeto é utilizar cores e texturas associadas à cidade para conferir uma contextualização imediata a todos os utilizadores da estação. 
Tivemos em consideração o respeito pelo meio ambiente, pelo que sugerimos sempre a utilização de materiais ecológicos e o mais sustentáveis possível.
Held as a proposal for the course of Graphics Design Environment, we chose as our basis the design of the new Central Station Trucking of Portalegre, joining the theme of Traditions of Portalegre. Our main objective is, without a big budget, create a warm space where people can wait for the bus and be comfortable. Another of our main goals with this project is to use colors and textures associated with the city to provide a context immediately to all users of the station.
We take into account the respect for the environment, so we always suggest the use of environmental friendly materials and the more sustainable as possible.
Situando-se Portalegre no norte do Alentejo, e sendo os tons de amarelo e laranja os mais associados a esta área, juntam-se a essas as cores da cortiça (tons de castanho).
Because Portalegre is located in the North Alentejo, e being the shades of yellow and orange the most associated to this area, we chose those colors along with the cork colors (shades of brown).
Tradição que ainda se mantém em Portalegre são os Santos Populares, que enchem as ruas com bandeirinhas triangulares  - a forma destas a juntar com a forma da composição dos azulejos é representada pela grelha escolhida, a grelha isométrica.
One of the traditions that still takes place in Portalegre are the Popular Saints, that fill the streets with little triangular flags - the shape of these flags combined with the mosaics is represented by the chosen grid, the isometric grid.
Utilizando os vidros muito presentes na arquitectura da estação, ocorreu-nos a ideia de colocar vinil transparente fosco com representações endémicas desta região, representando árvores como a oliveira e o sobreiro. Utilizamos também representações de trabalhadores comuns nesta área como a ceifeira, o lavrador, a lavandeira, o pastor e a padeira.
Using the glasses very present in the Station architecture, ocurred us the idea of placing transparent vinyl with endemic representations of this region, representing trees like the olive and cork tree. We also used representations of common works in this area like the reaper, the farmer, the laundry woman, the shepherd and the baker.
Representação da cidade num quadro tridimensional de cortiça.
City representation in a tridimensional cork skyscape.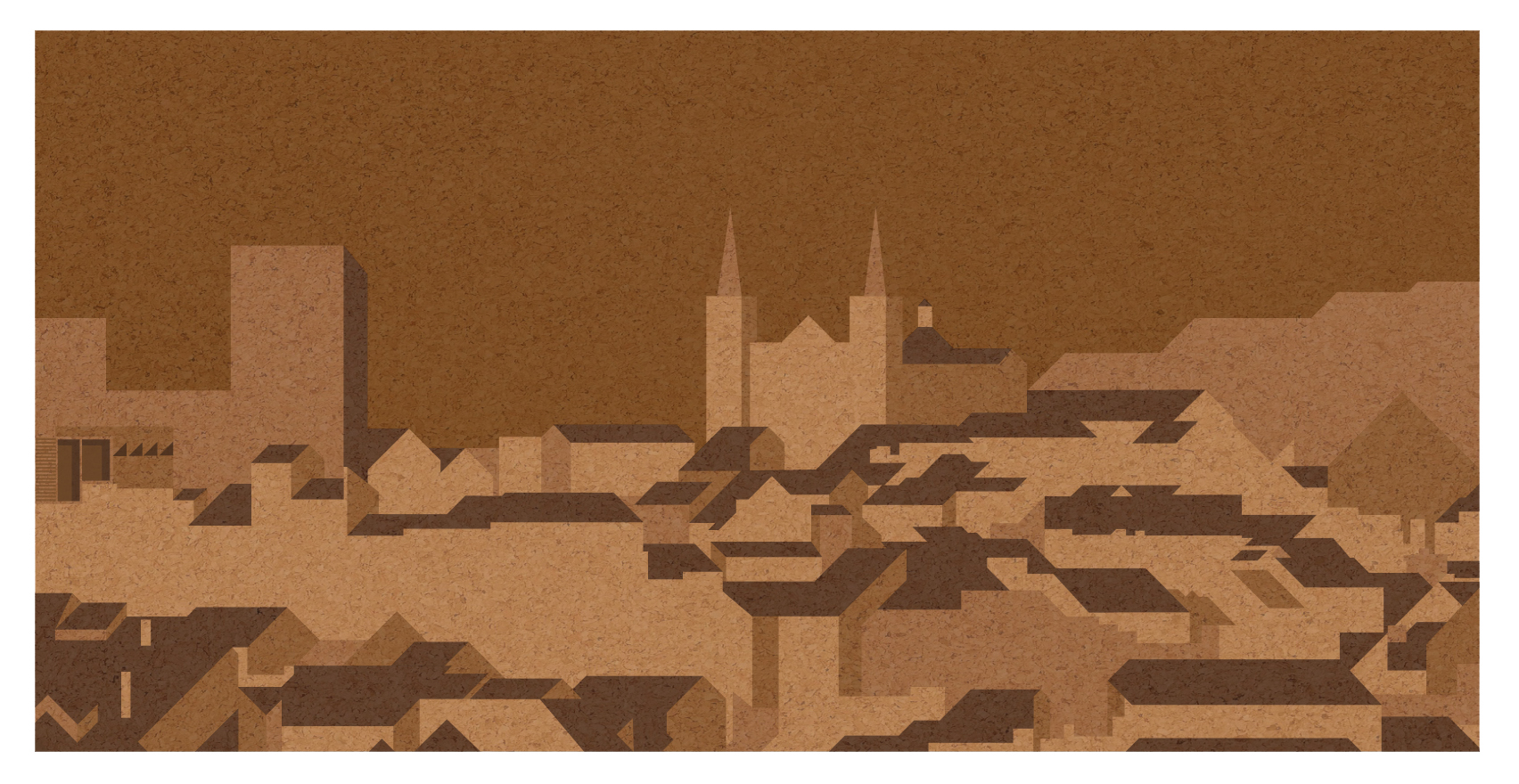 Aplicação sobre a planta para demonstrar onde as alterações estariam localizadas.
Application on the plant to show where the changes would be located.